Site Representative Conference
#UConnECEsiterep
The annual Site Representative Conference is traditionally held in March, on the Storrs campus and is one of our largest events. The 2020 conference was cancelled and the 2021 and 2022 conferences were held virtually due to the Covid-19 pandemic.
New program policies and procedures are introduced, and registration materials are distributed to all UConn ECE Partner schools. All UConn ECE Site Representatives are invited via e-mail. We ask Site Representatives to have a delegate attend in their place if they are unable to attend themselves.

#1 WINTER 2022 UCONN ECE MAGAZINE
View the Winter 2022-23 Magazine page directly at magazine.ece.uconn.edu or download the PDF. Contribute to the Summer 2023 (Growth Mindset: Challenge the Status Quo) themed edition with artwork or sharing a professional success (please encourage UConn ECE Instructors and Students as well!)
#2 COURSE OFFERINGS 2023-2024
2023-2024 Course Offering planning documents were distributed at the Site Representative Conference on Tuesday, April 4 2023.
2023-2024 Course Offerings are due to the UConn ECE Program Office by May 12, 2023.
#3 UCONN PRE-COLLEGE SUMMER (PCS)
A pre-college summer program for high school students. UConn PCS can help students with their future career, academic, and personal goals! For program dates, application details, courses, and more information please visit pcs.uconn.edu. We welcome you to use our program marketing materials to share this opportunity with your students.
#4 STUDENT AMBASSADORS & PROGRAM MARKETING AND PROMOTION
A great way to grow as well as maintain your UConn ECE program is through dynamic and relevant marketing and promotion. A clear and transparent representation of UConn Early College Experience at your high school will provide the opportunity for greater participation, more seamless experience with the registration process, and ultimately more student success during the credit transfer process.
UConn ECE Student Ambassadors are a great way to market and promote the program at your high school as they assist in the administration of the UConn ECE program and support their fellow students and Site Representative to create a more seamless college experience for all. Student Ambassador Participation Packages are due by June 3, 2023. Please see the Information Packet for program details.
#5 PROGRAM POLICIES & PROCEDURES
Find some Program Policies & Procedures Highlights for the 2023-2024 academic year, and all other program policies and procedures in our Policies & Procedures Guide. 2023-2024 program fees are $50 per registered course credit.
#6 PROGRAM DATA, COURSE EVALS, AND UTILIZING CREDIT
#7 HIGH SCHOOL GROWTH GRAPHS
Growth graphs provide a ten-year snapshot of student- and course-level data for your school, as well as a comparison to schools similar to yours. Site Representatives received their school's growth graphs at the Site Representative Conference. This 4 minute video walks you through the figures on the growth graph. Please reach out to Carissa Rutkauskas if you have any questions.
#8 GENERAL PROGRAM UPDATES
Program fees have not changed and the 2023-2024 Program Fee Waiver Policy has been finalized. We have added 8 new courses in 6 different disciplines (Agriculture and Resource Economics, Asian and Asian American Studies, Computer Science and Engineering, Communication, English, and Earth Science), and have about 158 new Instructors joining the UConn ECE family this year!
#9 Conference slides
Click the below image to access the slides from the conference.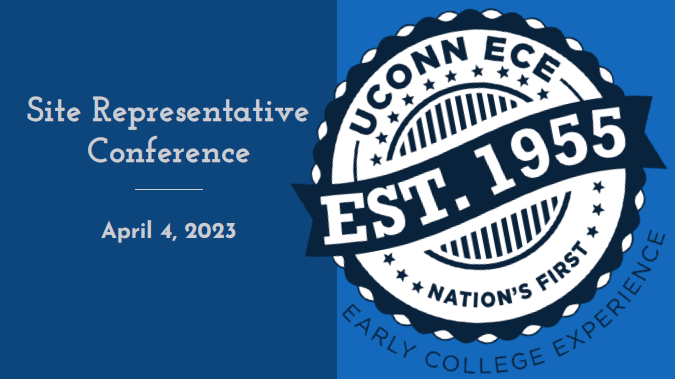 SUPPLEMENTAL
We value what you do! Please refer to the new Site Representative Benefits page for our growing list of Site Rep Benefits.